Amplifier Circuits 1W 2.5W TDA7052 LM386 LM380N
Low-power audio applications frequently used LM380N, crafted with LM386 amplifier circuits 3 TDA7052 amplifier circuit. the same for all the integrated master PCB prepared drawing seems a just some elements of the settlement changed by this different integrated circuits.
1W amplifier 2 .5W Amp circuits, standard power indicator led, power switch and dimming potentiometer input 6.3 mm jack plug. LM386: 5V–12V TDA7052: 5V. 12V LM380N: 9V …20V DC voltage.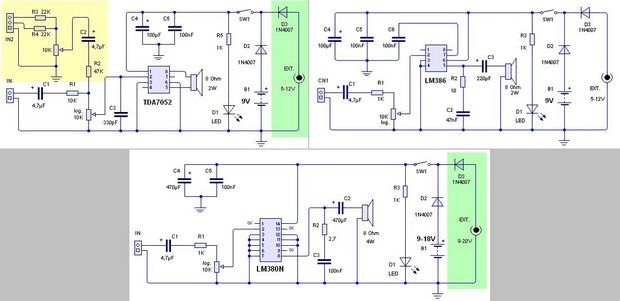 The author be portable and sound quality for the 9V battery connection has given information about the settlement plan prepared. For example, LM380N can work with high volume in order to get 9v only 20v battery instead of 2 x 9v battery can be obtained by connecting the battery voltage of the serial link serial-18v to increase batteries connected in parallel increases the power (batteries are going to be the same) can also be used instead of the proper voltage adapter battery
source: faxter.es/Proyectos/Pr04Miniamplificadoresport%C3%A1tilesMiniGP/tabid/99/Default.aspx Alternatif link:
FILE DOWNLOAD LINK LIST (in TXT format): LINKS-21918.zip