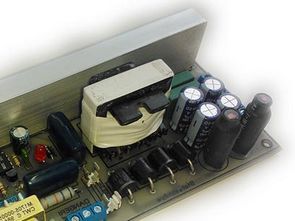 IR2153 Audio SMPS Circuits
SMPS designs designed as IR2153 amplifier power source based on IR2153 Integration. The 300W version gives 2X44V DC. Circuits have Short circuit protection.
IR2153 SMPS 300W Version: In general, IR2153 Supply voltage is taken over 220v filter capacitor, that is, over + 310V resistor or mosfet regulator. In these circuits, 18k 2w resistor is connected to 220V AC line in series and it is rectified with HER108 fast and IR2153 supply voltage is provided. There are several advantages to feeding this way.
1. Reduces the power used in extinguishing resistance. This reduces heat generation on the board and increases the overall efficiency of the circuit.
2. It differs from the power supply via the + 310V bus and provides a lower level of ripple in the drive supply voltage.
Protection against overloads and short circuit is carried out with a pair of transistors 2N5551 2N5401 transistors. Working as a current sensor, this part is activated according to the voltage drop on the 0.2 ohm shunt resistor connected in parallel.
In the event of a short circuit or overload, when the voltage drop in R10 R11 reaches a predetermined value, the VT1 2N5551 has a value in the head of more than 0.6 – 0.7V, the protection works and cuts the supply voltage of the IR2153 circuit by pulling it to the ground. As soon as overload or short circuit disappears, the power supply continues to operate normally. LED indicates protection is activated.
Transformer core used in IR2153 SMPS 300W Circuit ER35-21-11. The primary winding is 33 turns of 2 wires connected in parallel with 0.63 mm2. The secondary winding will be connected in parallel with 3 pieces of 0.63 mm2 wire and 2x 9 turns will be wound. Note: It is healthier to connect Series 10OHM 5A ntc to 220v Input
IR2153 300W SMPS Circuit Diagram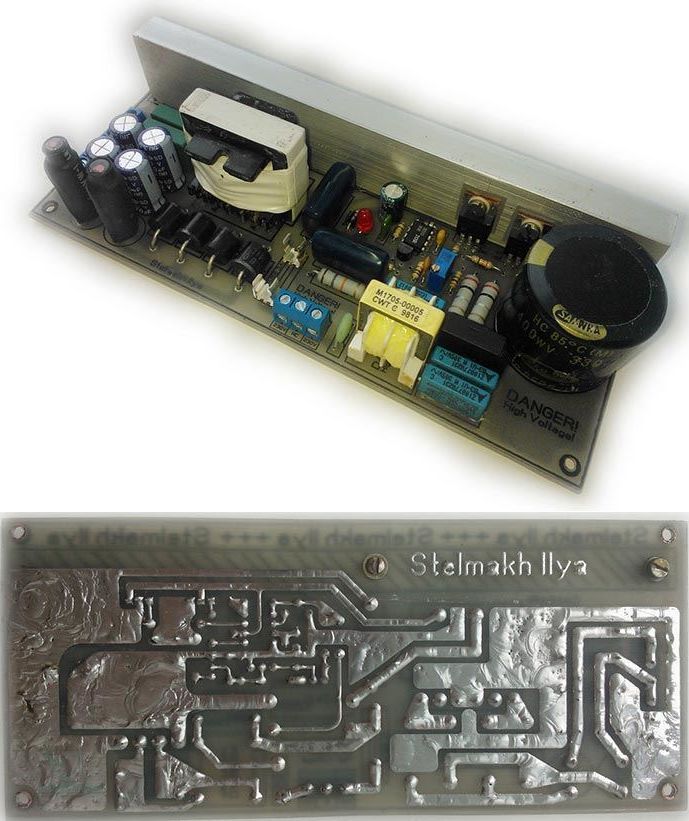 2X35V 500W SMPS Circuit
The power is higher than the other one, continuously 300w instantly restores 500w power working frequency 50Khz in this design, soft start circuit with relay is added. Short circuit protection is the same as in the other version.
Transformer used in the circuit ETD29. The primary primary winding is wound 46 turns from 2 pieces of 0.8mm wire. The Sekondar winding is connected in parallel with 2 pieces of 0.8mm wire and is wound in 2 × 12 turns. Actually, there is no need for 4 × 12 wraps, but the author deems this appropriate…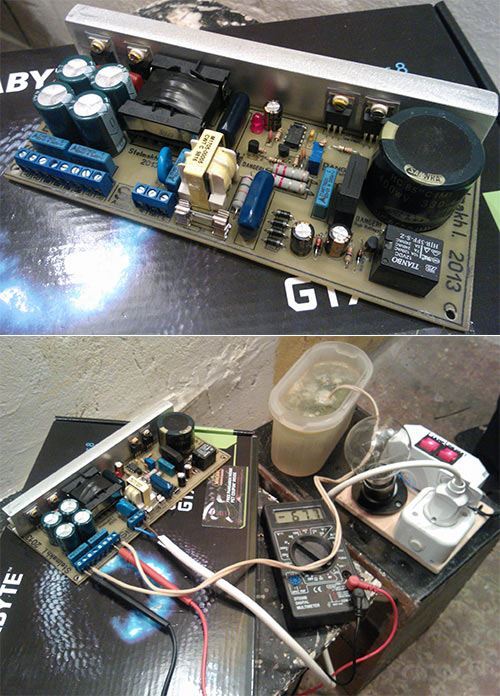 There are scheme and material lists of source drawing files made in two circuits with the PCB drawings Sprint Layout Program.
FILE DOWNLOAD LINK LIST (in TXT format): LINKS-27236a.zip