Car Amplifier Circuit TIP142 TIP147 200W DC DC TL494 EI33
Previously shared RMS 250W auto amplifier JBL filter SMPS EI35 SG3525 project is similar to the PCB design is a very regular auto amplifier circuit. You can use 2x100w rms stereo or 200w rms mono, which can be controlled by bridge connection as well as bass control with cross over circuit with adjustable TL072P op amp at the main entrance floor.
TIP147 TIP142 darlington transistors are used on the power amplifier floor, and BDW83C, BDW84C can be used instead.
The symmetrical + 35v -35v TL494 DC DC converter circuit required for auto anfin operation is provided. The supply of the cross over circuit is regulated by + -35V TIP41C TIP42C transistors (+ -15V)
The power core is EI33, AT, ATX power supplies. A lot of articles have been shared about the use of this transformer. In this application, the method of using transformer was made as mentioned in the article of DC DC Converter 200W 2X30V SG3524 SG3525 using EI33 Transformer. The MOSFETs IRF1010N driven at the output of TL494 can be replaced by IRF3205, IRFZ44, 50N06.
The "REM" section on the DC DC power supply circuit with the TL494 PWM control integra- tion. A cable from the ignition wire of the car will be pulled in. This section allows the system to close when the car is not running. You need to give + 12v to your section.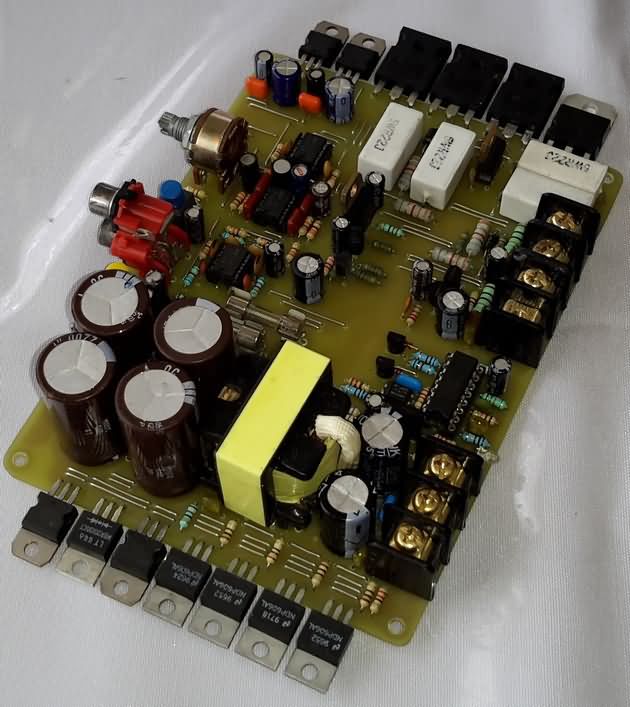 Darlington Amplifier 200W Cross Over Circuit Diagram
TL494 DC DC Converter Circuit Schematic
200W Auto Amplifier Test
Source: @Alejandro Cesar https://youtu.be/w0edYHMzH4M
FILE DOWNLOAD LINK LIST (in TXT format): LINKS-25946.zip