100 Watt Amplifier Circuit TDA7294 PCB
TDA7294 integrated amp is pretty popular in a very sound system is being used. Has a very clean sound. The materials used in the circuit with very little a few passive components are easy to install.
TDA7294 100V – 100W DMOS AUDIO AMPLIFIER WITH MUTE/ST-BY
Very high operating voltage range (±40v)
Dmos power stage
High output power (up to 100w music power)
muting/stand-by functions
No switch on/off noise
No boucherot cells
Very low distortion
Very low noise
Short circuit protection
Thermal shutdown
TDA7294 Amplifier Circuit Schematic
TDA7294 Power Supply Schematic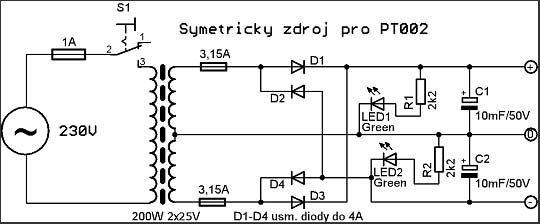 Transformer 120w 2x25v (*)
1 x 1 amp fuse (220v transformer for input)
2 3.15 amp fuse (transformer outputs)
D1 … D4 1N5404 4 pcs (for DC Rectifier)
2 R1 .. R2 2.2K resistor (red-red-red)
C1 .. C2 1000uF 50v 2 (in the scheme looks 1000uF 10uF is better;))
2 … Led LED1 LED2 (you can use if you want to display is used for)
As indicated in the circuit diagram of the circuit power transformer power 200w 100w to 100w is 200w but it was more necessary to use higher cost of a transformer is high. Please use the transformer 120w 200w or 500w transformer but have ready in your hand while they're being used in six 100w is important to integrate the supply voltage does not exceed the working voltage can evaluate trafoyu enough to get your hand.
TDA7294 integrated amp maximum working voltage of + – 40 volts DC + -10 volts DC while the lowest operating voltage transformer can evaluate accordingly in your hand, of course, could not provide low-voltage power 100w consider
TDA7294 PCB Top
TDA7294 PCB Bottom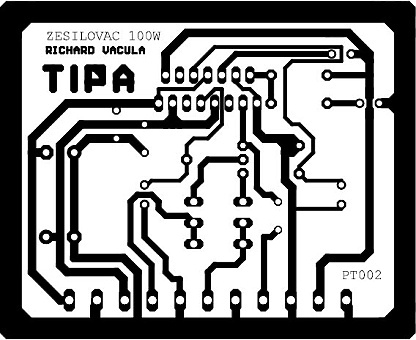 TDA7294 Mute/Stantby Connection
source : http://www.stavebnice.richardvacula.com/select.php?link=PT002