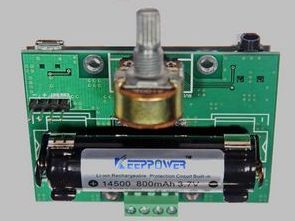 TPA2005 Tiny Class D Amplifier Module
The amplifier module is based on the TPA2005 chip with a bridged TPA2005 power amplifier capable of delivering up to 8V of almost 1.4W at 5V. Thanks to the small operating voltage (2.5V), it was possible to power the typical Lipo 14500 without additional boosters .
The audio signal from the IN jack is fed to the RV1 volume 22k potentiometer and hence through the coupling circuits R1-C2, R3-C6 to the amplifier inputs TPA2005 U1 and U2. Due to the symmetrical input stage, the inverters IN are connected to the R2-C2, R4-C7 circuits. The signal after gain is filtered through L1 … L4 chokes and C4, C5, C9, C10 capacitors and connected to TPA2005 OUTL, OUTR terminals. If the wires for the speakers are short (less than 10 cm), for example when the TPA2005 amplifier is built directly into the device, you can replace the L1 … L4 coil with ferrite beads and reduce the capacity of C4, C5, C9, C10 to 1 nF.
TPA2005 Class d amplifier circuit diagram
FILE DOWNLOAD LINK LIST (in TXT format): LINKS-25830.zip