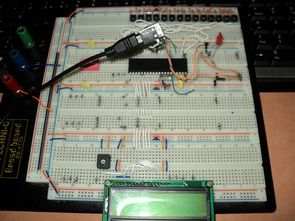 PIC18F4550 USB Keyboard (buttons LCD)
Microchip PIC18 USB applications quite popular with the series project with PIC18F4550 usb keyboard would be a good example for many people.
I've never known USB issues after me pretty puzzling to others with the principles of simplicity, I share my project 18F.
There are 14 buttons pressed them ABCD keys 1-9,0 and prints. Meanwhile, the key pressed at 2 × 16 LCD Viewing. the computer recognizes the device as a keyboard hidden. In the link there, but the whole project isis usb keyboard does not work. I prepare the file isis scheme in terms of connectivity. Codes are written with protons.
the fact that a part of my project I'm making more, but with this situation, many people think it would be an example.
PIC18F4550 USB Keyboard Circuit
author: @Sertaç EREN isis simulation, protons software files:
FILE DOWNLOAD LINK LIST (in TXT format): LINKS-10884.zip
within the file "PS2 to USB HID Scan Code Translation" In its statement's. Thanks to the people who contributed to prepare.