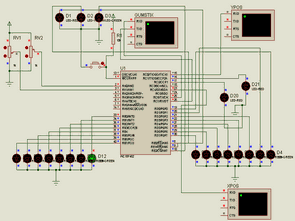 RS232 port Control Board PIC18F452 Microcontroller
"PIC18F452 Serial RS232 control port connected card" application Project Sharing section of Article Posted by Hasan Adult thank you to him. Applications written in the C language source code and simulation files are isis.
PIC18F452 Serial RS232 port connected to the control board Gumstix main purpose of this card is to provide the outside world, but serial ports to communicate with all the devices used.
This card is based on the information received from the serial port x2 8-bit digital output 2 input ADCs provide PWM output 2. In addition, tx output with two serial ports can send information to other devices.
RS232 Control Board Circuit
author Hasan Yetik – PIC18F452 RS232 control card application source files belonging to the;
FILE DOWNLOAD LINK LIST (in TXT format): LINKS-10264.zip