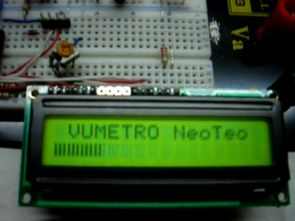 Level indicator with LCD VU Meter PIC16F877
PIC16F877 circuits with a suitable title was 2 × 16 LCD display VU Meter circuit with a simple voltmeter or can the system prepared with almost the same software PicBasic lcd, pic and a few passive components in the circuit board.
Analog level indicators have been suffering for some time the logical offset of the scene has imposed technological advancement. The need to interpret in a scale position indicator of a required time and work that was replaced by colorful digital displays presenting the exact numbering of the value we are trying to assess all. However, there are applications that do not demand to know an exact value but have an estimated incidence of "how much" information. Clear examples of this are the meters that mentioned audio level indicators signal reception and all the indication involving a dynamic measurement of any magnitude.
LCD Level indicator Circuit
Source: goo.gl/5iRi LCD VU Meter project Alternative link:
FILE DOWNLOAD LINK LIST (in TXT format): LINKS-10725.zip