PICmicro LED tachometer Circuit
Handmade pretty stylish LED display digital speedometer tacho meters. Source or assembly code pic16f874 PIC16F877 can be done with the circuit and wiring diagrams directly from the preparation given the 33-hole leds pcb layout on a plaque made
analog instrument into a digital tachometer with analog bargraph LEDs. The meter can measure and display a speed range from 0 rpm to 8000 rpm and higher in 250'er increments. Intermediate values ​​are indicated by a pulse-pause ratio of the next higher LED. This is admittedly a bit of getting used to when it flashes in the view, but can be improved in the software.
LED tachometer Circuit
The LED tachometer is based on the PIC 16F874/877 which can control the LEDs directly with its wealth of I / O pins and makes the overall circuit is therefore very simple.
Was programmed the circuit for a 4-cylinder gasoline engine. The speed is measured directly or via divider resistors at Zündspulenunterbrecher. Configured the PIC on a clock frequency of 20MHz. There were all port pins except PORTA, 0 used as LED pins. The circuit is connected to a total of 4 cables. (+ Ub, GND, CLOCK, backlight).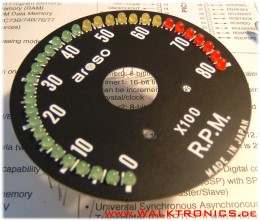 FILE DOWNLOAD LINK LIST (in TXT format): LINKS-7897.zip