10 LED VU Meter Circuit LM3915
In this article made ​​with LM3915 integrated LED vu meter is shown in Figure 10 . VU meter circuit feature , listened to music according to the severity of the LEDs are lit . So vu meter circuit indicates the level of severity of music . Music of the bass, treble and volume regardless of how much more so the LEDs are lit.
Circuit at the same time the volume is more or less well understood. The first seven green LEDs on the circuit , while the other three LEDs make the dream of red renktedir.b the following purposes ; Green LED illuminates when the normal volume , together with the red LED lights up in green when the sound intensity is more straightforward.
10k potentiometer on the circuit with a circuit that connects to the audio system is roughly adjustment is made. ( Each speaker in the sound system value is different with 10kohm'luk potentiometer adjustments are made . ) If the circuit is connected to the computer , safe in the ATX power supply can be connected to 12 V pin . Desktop PC enclosure 3.5 "like you have done on the front panel meter circuits will be among the new projects soon .
Front and rear view of the printed circuit board;
VU Meter circuit connects to the shape of the sound system;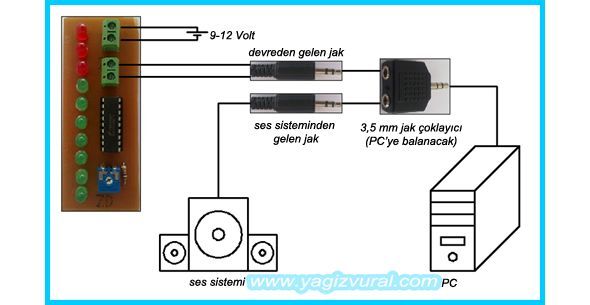 DipTrace PCB and schema files belonging to the application:
FILE DOWNLOAD LINK LIST (in TXT format): LINKS-16109.zip