DIY Wood Burning Machine PWM Heating
Professional Wood Burning Machines you can make a cheap handy Wood Burning Machine when you look stylish. You can use AT, ATX power supply or high power transformer for this.
In the Wood Burning Pen the wire resistance used must be high in chrome nickel resistance. Direct power voltage control, a dimmer circuit is required for heating too much.
The example writer writes a 12V output ( yellow cable ) of the ATX power supply using a simple 555 integrated PWM control circuit ( red wire ) with a high supply current of 5 volts.
Note: Some also use 3.3V output ( orange cable )
It is better if a button is added to the supply voltage line of the 555`s power supply or to the MOSFET gate gate and it is mounted on the floor with a 1k potentiometer and telepower adjustable.
A 100-ohm 10W stone resistor, which is said to use a 100-ohm high-strength resistor, can be used in applications where the ATX power supply needs full power to connect the load to the 5V line to avoid protection.
Note: If 100-ohms does not work, connect and use two 100-ohm 10W resistors in parallel. Q1 N You can use IRF3205 for the channel MOSFET.
Control System for Wood Burning Machine AT, ATX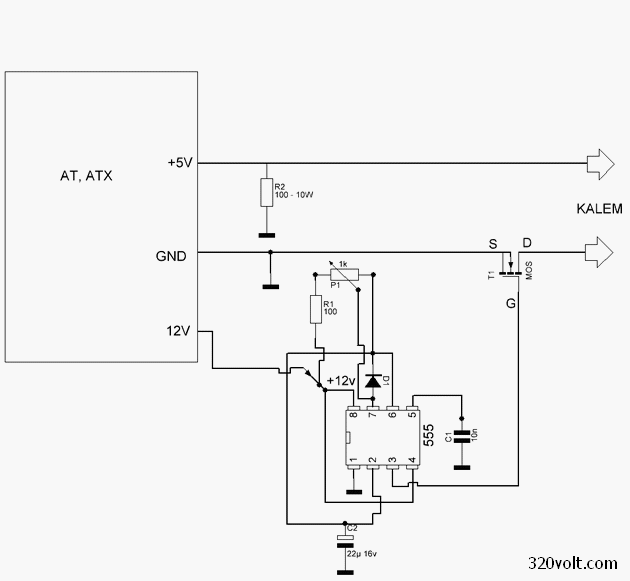 Exiting in the Wood Burning Machine In order to use UPS transformers, the UPS transformers with DC rectifier are usually supplied with voltages between 2X7 …. 10V-AC. The MB3045 diode at the 5V output of the PC power supplies can be used as a diode connected to the other ends as a medium duty chassis. The power source of the PWM control circuit can be a different source.
we can adjust because the UPS transformer voltage is high but the power control circuit is used according to the examples above but we need to increase the power of the MOSFET, increase the size of the cooler and also connect the cooler in the diode.
Wood Burning Control Chart UPS Transformer
Since the scheme of the implemented system is very small, the redraw can be used in different PWM control circuits.
For Wood burning pen , the defective burner can be modified and used, or a wooden handle can be plugged and used as shown in the illustrations.