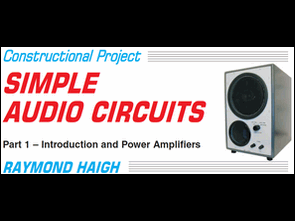 Simple Audio Circuits Book Everyday Practical Electronics
Simple Audio Circuits (Simple Audio Circuits Books) 4 consists of Practical Electronics magazine published for free Madden E.P.E Everyday book. simple amplifier circuits, audio control circuits, various designs detailed drawings, descriptions and material lists shared with.
Simple Audio Circuits-part 1
Amplifier, amplifier, amplifier circuits circuits TDA2003 TDA2003 TDA7052 amplifier, amplifier, amplifier, the LM386N-1 TBA820M LM380N amplifier
Simple Audio Circuits-part-2
Pre amplifier circuits, tone control circuits, at the front of the amplifier input impedance filter circuits-low, medium, High input impedance of the amplifier, the amplifier input impedance front front, low-noise, high input-impedance Fet front amplifier transistor pre amplifier, Transistor tone control circuit
Simple Audio Circuits-part-3
Pre amplifier and low-power amplifiers for symmetrical power supply circuit, Crossover circuit and filters.
Simple Audio Circuits-part-4
Loudspeaker cabinet, 741 opamp with Tuning oscillator circuit, and detector circuit Resonance
Free Simple Audio Circuits Book download:
FILE DOWNLOAD LINK LIST (in TXT format): LINKS-22775.zip