Speaker Parallel Serial Connection Calculator
Sometimes in home audio systems or auto audio systems, the speakers need to be connected in parallel, sometimes this type of connection is necessary. Prepared with Excel Speaker serial, parallel connection calculation tool Anfi power loudspeaker omaj, total connection according to the connection shape, consuming power shows.
2, 3, 4 serial, parallel speaker connection and 2 serial 2 parallel speaker connection calculations. Amp power In the " Speaker A power " section, the output power of the speakers is set to different omaj you can see how hard the speaker connection works. In the case of the example speaker connection schemes, the red dotted section is the speaker + plus one.
Speaker Link Calculation Program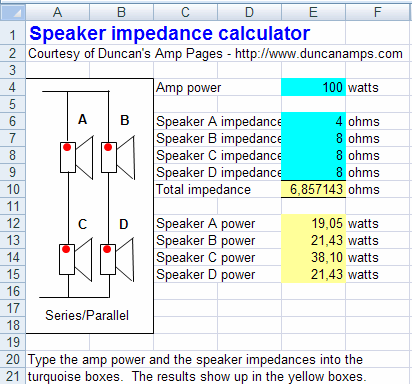 source: duncanamps.com/technical/impedance.html
FILE DOWNLOAD LINK LIST (in TXT format): LINKS-25938.zip