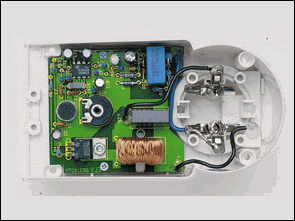 230V 300W Lamp Sound Control
We provide a simple and very inexpensive realizable Light organ for fast Plug & Play before use, the lamps with an output of up to 300 W "power" can. The control of the light organ is performed by a built-in microphone.
That the timelessly popular light effect units not always large, expensive and tedious must be installed, which shows here example presented – a small light organ quasi for home use. The in practical plug and socket housing accommodated device is a Plug & Play Lighting effect, it is enough to start the simple plugging into a power outlet and attaching an almost any incandescent lamp up to 300W Power consumption. So at the party, virtually any Light in the room that would otherwise be silent before him lit for effect light are!
Power supply
230 V/50 Hz / Max. 1.6 A
Output: Max. 300 watts
Control: internal microphone
Dimensions: 32 x 67 x 40 mm
230V 300W Lamp Sound Control schematic
FILE DOWNLOAD LINK LIST (in TXT format): LINKS-3346.zip