Electronic Ballast Desing Program
IR International Rectifier company produces quality products particularly to the issue of power electronics MOSFETs. SMPS, PWM drives, etc.. They may be used in addition to electronic ballast circuits produced IR, IRS integrated ballast design programs have prepared for
What is Electronic Ballast
An electrical ballast is a device intended to limit the amount of current in an electric circuit. A familiar and widely used example is the inductive ballast used in fluorescent lamps, to limit the current through the tube, which would otherwise rise to destructive levels due to the tube's negative resistance characteristic.
Ballasts vary in design complexity. They can be as simple as a series resistor or inductor, capacitors, or a combination thereof or as complex as electronic ballasts used with fluorescent lamps and high-intensity discharge lamps.
About Ballast Design Program Summaries
Tasarım yapılabilen entegreler
IR2156 (CFL Balast)
IRS2166D (Tek entegre balast)
IRS2168D (Tek entegre balast)
IR21592 (Dimmer balast)
IRS21571D (Balast)
IRS2158D (Dimmer balast)
IR2161 (Halojen kontrol)
IR2520D (Balast)
IRS2530D (DIM8 Balast)
Ballast Design Usage Information
The program is easy to use after installation "Ballast Design V4" click on the shortcut you are running a window opens, as in the picture below
Note: If there is no icon on the desktop shortcut to C: \ Program Files \ Ballast Design V4 \ Run bda.exe file
The program automatically according to the settings you can make on the menu is made up of ballast designs
IC: Integrated choice section
Input: The input voltage
Lamp: Lamp wattage and model
Configration: Parallel serial connection
If you want the "Advanced" section, you can create a detailed design for a person skilled in this section, all values ​​can be entered manually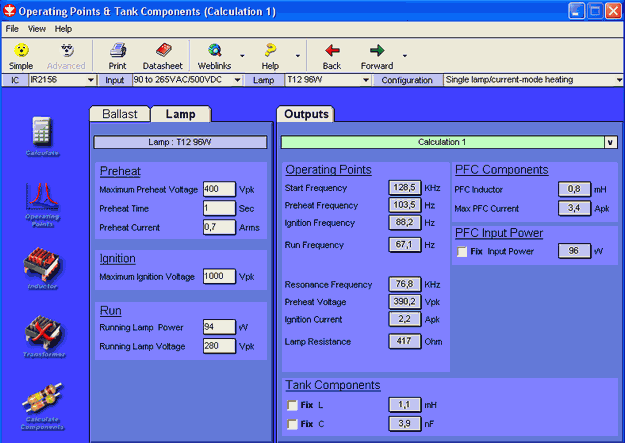 All settings made ​​"Desng 5″ button is clicked, then the circuit diagram, bill of materials, ballast, transformer core data, the frequency of the voltage curve, it looks like the info in a new window
Ballast Design Notes tips
Also a very good feature of the program design should also add to the PFC circuit and transformer core accounts of the PFC circuit is used for making integrated PFC L6562 ST Microelectronics products
The program is very successful, especially transformer calculation or other control systems can be used to integrate other calculations can be useful in preparing their programs according to their own integrated company but a different account can be used to integrate the transformer run at the same frequency.
In experiment once bda.ex to Operating the program when the operation of the saw in the task manager seems to be working, but it was gone this type would be a problem if the C: \ Program Files \ Ballast Design V4 \ in the config.ini file, delete the program will run smoothly again ini file to create
source irf.custhelp.com Ballast Design program alternative link
FILE DOWNLOAD LINK LIST (in TXT format): LINKS-7870.zip
5-Step Ballast Design
Lamp Browser
Design Browser
Advanced Display Page
Ballast Operating Points Calculation
LC Tank Component Calculator
Ballast Operating Points Graph
IC Component Calculator
Time Domain Graph
Inductor Designer
Windows-based Graphical Interface
PFC Component Calculator
IR2156, IR21571, IR21592, IR21593, IR2166, IR2167, IR2520D, IR2161, IRS2158D, IRS2166D, IRS2530D Component Calculator Schematic
Bill of Materials
Electrical Data Table
Inductor Specification Sheet
Component Value Table
Operates on Windows XP and Vista