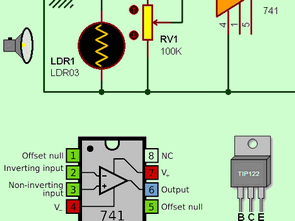 Dark Switch Circuit with 741 Opamp
The circuit diagram you see in the picture works as a dark switch with the LDR on it. The circuit consists of four resistors, a 741 opamp, two potentiometers (optional trimpot available), an LDR, a switching TIP122 transistor and a lamp. In the circuit, the value of the resistor R1 is directly proportional to the internal resistance of the LDR and operates as a voltage divider between 6-12V.
Depending on the internal resistance of LDR1, the task of the RV1 potentiometer was used for the degree of sensitivity to the amount of light that would fall on LDR1. Of course, RV1 is also a voltage divider. For this reason, the resistance value divided by LDR1 and R1 materials is compared with the resistance value divided by RV1 by U1.
Assuming that the RV1 potentiometer is 6V and that LDR1 is in the dark, the voltage at the non-inverting input of U1 will be a positive voltage at the output of U1 since the internal resistance of LDR1 will be high, since it will take a value close to or slightly higher than 6V.
Dark Switch Circuit Schematic Diagram
This will trigger Q1 via R3, which will allow L1 to light. When L1 gives light, a certain decrease in the internal resistance of LDR1 will be observed, which will cause the opamp output to 0V and T1 will go to the TIP122 transistor and L1 will go out.
It should be noted, however, that assuming that the resistor R4 is absent, there will be a continuous voltage on the opamp output 741, thus preventing the transistor Q1 from going into the cut. The resistor R4 will draw the voltage of the transistor Q1 on the ground to ground.
The RV2 potentiometer will react to U1 and its gain will change. When the resistance of the RV2 potentiometer is large, the opamp will work as a comparator and when small, it will work as an amplifier.