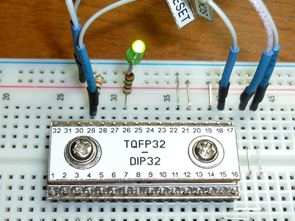 Handmade TQFP32 Converter DIP32 Adapter To PCB
TQFP32 in integrated circuits do not require soldering, especially for microcontroller projects, going to work is a handy TQFP32 DIP32 very good craftsmanship In handmade converter pcb solder after filling up with left, right bars soldered onto the sections. In order to facilitate the placement of the chip, the chip will form part of the cut.
In addition to a thick piece of paper pasting onto the pcb integrated onto the chip part of the pcb to secure the plate vidalanıyor. Vidalanıp is used to track when the label for the enumeration of compression adapter is ready for use.
DIP32 adapter to pcb artwork crafted with sprint layout TQFP32. lay to open files with the extension http://www.abacom-online.de/uk/html/dateien/demos/viewlayout50.exe
Source: we.easyelectronics.ru/HomeTech/tqfp32—dip32-perehodnik-dlya-maketirovaniya.html alternative link:
FILE DOWNLOAD LINK LIST (in TXT format): LINKS-19210.zip