TDA7490 Class-D Amplifier Project
The output stage of the TDA7490 amplifier in class D The core of the end stage class d circuit is TDA7490 from the company STMicroelectronics. The way in which this amplifier works, was discussed above. Here will be dismantled just a function nejdůleţitějších components. On pin 8 generates a modulation signal, or it is possible for him to bring an external modulation signal. The frequency of the generated signal is according to given the values of capacitor C17 and resistor R13 according to equation.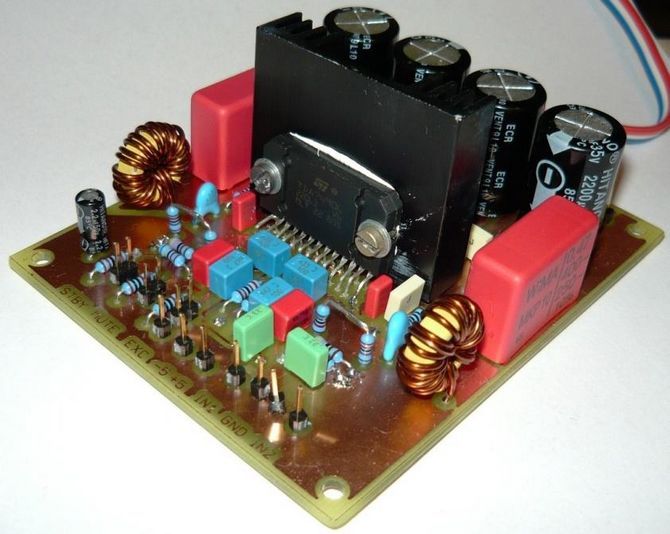 On TDA7490 pins 11 a15 with the modulating signal shapes for each channel separately. Pin 3 and 23 are the output. On each is connected to the output filter formed by the coil L1, L2 and a capacitor C10, C29. Capacitors C14 and C20 creates a bootstrap, which reduced noise. On pin 7, 9 and 17, 19 is brought feedback from the output. Elements attached to them constitute the filter low-pass filter. According to the size of the voltage at pin 6 may be an amplifier in one of the three conditions (play, mute, stand by). On pin 14 is the size of the resistance sets the current insurance policy.
Class-D Amplifier TDA7490 Circuit

TDA7490 Simulation of the transmission of the output of the filter for the load 4Ω with the determined cutoff frequency and attenuation for the modulation frequency (L = 15 µH; C = 680 nF)
tda7490 class d amplifier circuit pcb schematic all files alternative links:
FILE DOWNLOAD LINK LIST (in TXT format): LINKS-25532.zip