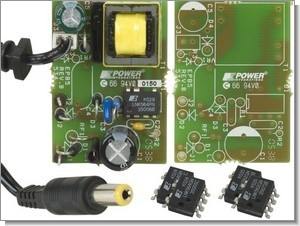 Power Integrations Reference SMPS Power Supply Designs
Power Integrations SMPS control ICs and design about the program had a spell (PI Expert SMPS DC-DC, AC-DC Design Program) of the company all the tests he applied a few SMPS design examples in addition to the application photos are not different designs in all applications transformer core wire winding information available
In particular, there is a lot of detail in some SMPS circuits made ​​of oscilloscope measurements, etc. residential heating in the oven cooling tests. a lot of information ..
Note: Description of the "Peak" could give instant power of the circuit is on overload
225W Power Factor Corrected LLC Power Supply
HiperPLC (PLC810PG) Specification 90 VAC to 265 VAC Input 225 W (286 W Peak) Total Output Power
5 VSB at 0.5 Watt
5 V at 9.5 Watt
12 V at 48 Watt (60 W Peak)
24 V at 168 Watt (216 W Peak)
Application 40 Inch LCD TV
Summary and Features
• Frequency and Phase locked PFC and LLC for ripple cancellation in bulk capacitor for reduced ripple current reduced bulk capacitor and reduced EMI filter cost
• Integrated PFC and LLC controller
• Continuous mode PFC using small low-cost EE Sendust core and magnet wire
• Tight LLC duty cycle matching
• Tight LLC dead time control
• Brown out detection circuit
• >92% full load PFC efficiency at 90 VAC using conventional ultrafast rectifier
• >93% full load LLC efficiency
30W DC to DC Converter DPA424
Specification 36 Volt DC to 72 Volt DC Input 5 Volt @ 6 Amp Output
Application Telecom
Features
Very Low Component Count
High Efficiency
No current sense components
Integrated MOSFET designed for very low switching and gate drive losses
85% with low cost S.B.D. rectifier
DPA-Switch Integrates:
Accurate line OV and OV shutdown
Thermal protection
Overload and open loop fault protection
Regulation at zero load (cycle skipping)
400 kHz trimmed internal oscillator
No Heat Sink or Derating at up to 55 °C Tested Over Industrial Temperature Range (-40 °C to 85 °C) High Bandwidth (6 kHz)
PKS606YN 36W SMPS Power Supply
Specification 90 – 265 VAC Input, 12 V, 36 W Continuous (72 W Peak) Output
Application Variable Speed Motor Drive
• Replaces a two-stage linear power supply and chopper circuit with a simple single-stage design
• Eliminates the chopper circuits normally used to achieve variable-speed control of DC motors
• Motor speed is controllable by a small potentiometer or a 3.6 V to 10 V variable DC voltage
• Easily meets CISPR-22 / EN55022B limits with E-Shields and Frequency jittering feature
35Watt SMPS Power Supply Using TOP258PN
Specification 90 Volt AC to 265 Volt AC Input 5 Volt, 2.2 Amp and 12 Volt, 2 Amp Output
Application LCD Monitor
Summary and Features
• Low cost, low component count, high efficiency
• Delivers 35 W at 50 °C ambient without requiring an external heat sink
• Meets output cross regulation requirements without linear regulators
• Eco Smart meets requirements for low no load and standby power consumption
• 0.42 W output power for <1 W input • No load power consumption < 300 mWatt at 230 Volt AC • >82% full load efficiency
Integrated safety/reliability features:
• Accurate, auto-recovering, hysteretic thermal shutdown function maintains safe PCB temperatures under all conditions
• Auto restart protects against output short circuits and open feedback loops
• Output OVP protection configurable for latching or self recovering
• Input UV prevents power up  power down output glitches
• Meets EN 55022 and CISPR-22 Class-B conducted EMI with > 10 dBµV margin
19.7V, 3.3A Notebook Adapter SMPS
This engineering report describes a notebook adapter power supply demonstration board
employing the TOPS witch HX TOP 261LN. This power supply operates from a universal input and provides a 19.7 Volt, continuous 65 W output.
Summary and Features
• Low cost, low component count
• Very compact design in a 15.4 mm thin case
• Very low no-load input power (<270 mW at 230 VAC) • Meets Energy Star 2.0 Efficiency Requirements: >87% at 115 V / 60 Hz, and
230 V / 50 Hz, with very high efficiency in both standby and sleep modes
• Excellent transient load response
• Hysteretic thermal overload protection with automatic recovery
• Latching OVP with fast AC reset
• Meets limited power source requirements (<100 VA) with single point failure • Power Integrations eSIP low-profile package • Ultra-low profile transformer bobbin design (PI proprietary SLIMCORE™) • No potting required to meet thermal specifications • Meets radiated EMI with > – 6db margin
24V Flyback 50W SMPS
The isolated fl yback power supply shown in Figure 1 utilizes a TOP 258PN. The high effi ciency of this design allows for operation at a high ambient temperature (65° C) without the need for any external heatsinking.
16W 16V Audio Amplifier SMPS Power Supply TOP245P
• No heatsinks required!
• 77% efficiency (min), at 85 VAC input/35 W output
• Low no-load input power: < 0.7 W at 230 VAC input • Low component count: 37, excluding I/O connectors • Stable operation with or without 10,000 μF output buffer capacitor • Robust transformer design enables 35 W peak power • Meets CISPR22B EMI with >10 dB of margin
• Ideal for both class AB and class D audio amplifiers, 6 channel Dolby Digital with 6 ohm speakers
12V SMPS Audio Amplifier Power Supply
Application : Audio
Device : PKS606PN
Power Input Voltage : 90v 265 VAC
Output Voltage : 20W, 43W peak 12V
Topology : Flyback
Power Integrations Reference SMPS Power Supply Designs files: :
FILE DOWNLOAD LINK LIST (in TXT format): LINKS-6757.zip