PIC16F84 2.7GHz Frequency Meter Circuit 100kHz resolution Picbasic Pro
Frequency meter PIC16F84 with prescaler This small unpretentious frequency is for SHF measures up to 2.7 GHz for which we do not look great precision (eg ATV). Like many circuits of this kind, it is based on the AN592 Application note Microchip.
This is actually a frequency that can operate up to 13 MHz which I added a prescaler LMX5080 by 256. This circuit is no longer manufactured, but it can be replaced by any available prescaler (the value of prescaler is selectable by software).
The LCD display 2 lines of 16 characters, indicates the frequency measured by the frequency on the first line and multiplied by 256 (or whatever) to the second value. The scheme is available at ISIS screen or JPEG format . You can download the printed size ARES system . The app is written in PIC BASIC PRO with some assembler. The source code is available here . It is widely commented and everyone can adapt to their needs.
PIC16F84 Frequency Meter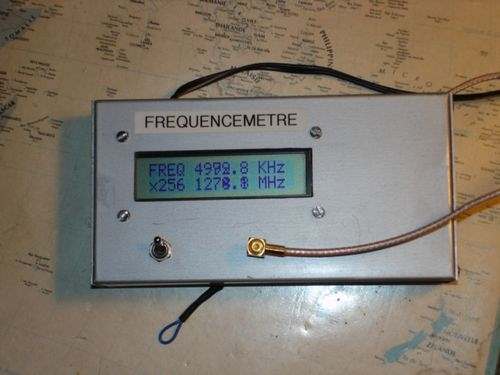 The amplifier comprises a common emitter 2N2369 (grounded), 560 Ohms resistor (connected to +5 volts) and the collector resistor 39K between collector and base. Input from the base via a capacity, exit to the header to the resistance Inlet of the frequency (470 Ohms -> RA4).
Source: f6csx.free.fr PIC16F84 2.7GHz Frequency Meter Circuit 100kHz resolution Picbasic Pro source code schematic etc. files:
FILE DOWNLOAD LINK LIST (in TXT format): LINKS-4446.zip