Operational Amplifier Tester Circuit
This wiring is a module that makes it easy and easy to distinguish good operational amplifiers from defective ones. The op amp tester is designed to test simple, double and quadruple operational amplifiers.
The wiring diagram of the opamp tester is shown in the schematic diagram. There are components in the tester that, together with the operational amplifier being tested, generate a multivibrator. If the opamp is good, the multivibrator oscillates, and the LEDs flash alternately. If the opamp is defective, no LED is on, or only one is on. In order to test simple double and quadruple operational amplifiers without complicated terminal switching, the operational amplifier tester has a total of seven identical multivibrator circuits with LEDs that are connected to each operational amplifier in each socket. operational amplifiers in DIP8 housings. These are, for example, types MAA741, TL061, TL071, TLO8I, TLC271, LF355. LF356, LF357, NE5534 and others opamps.
The respective LEDs are D1 and D2. At IO2, we can test double opamps in DIP8 housings. These are, for example, types MA1458, MC1458, LM358, TL062, TL072, TL082, TLC272, NE5532, CA3240 and others. The first operational amplifier indication LEDs are D3 and D4, the second D5 and D6. At I03 we can test quadruple operational amplifiers in DIL14 housings. These are the types BM324, LM324 TL064, TL074, TLO84, TLC274 and others. Multivibrator oscillations with the first operational amplifier indicate the LEDs D7 and D8, with the second D1 and D12 being the third D13 and D14 and the fourth D9 and D1O.
Op Amp Tester Circuit Schematic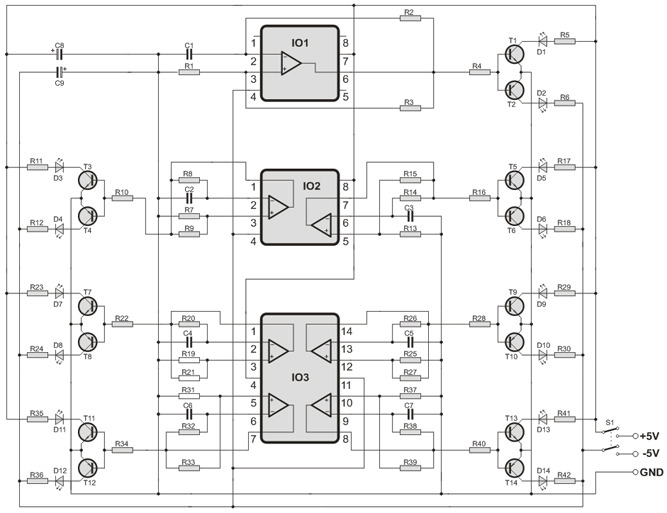 Supply voltage: ± 5 to 9V / 8OmA
R1, R3, R7, R9, R13, R15, R19, R21, R25, R27, R31, R33, R37, R39 - 120k

R2, R8, R14, R20, R26, R32, R38 - 820k

R4, R10, R16, R22, R28, R34, R40 - 1k2

R5, R6, R11, R12, R17, R18, R23, R24, R29, R30, R35, R36, R41, R42 - 390R

C1, C2, C3, C4, C5, C6, C7 - 220n

C8, C9 - 1uf

D1, D2, D3, D4, D5, D6, D7, D8, D9, D10, D11, D12, D13, D14 - LED 

T1, T3, T5, T7, T9, T11, T13 - KC237 (KC238, KC239)

T2, T4, T6, T8, T10, T12, T14 - KC307 (KC308, KC309)

Sleeve DIL8 - 2pcs

Sleeve DIL14 - 1pc

IO1 - simple operational amplifier (for example TL061, TL071, TL081)

IO2 - double opamp (for example TL062, TL072, TL072)

IO3 - quad opamp (eg TL064, TL074, TL084)

Switch - Two Position (L444)
Operational Amplifier Tester Circuit 2
FILE DOWNLOAD LINK LIST (in TXT format): LINKS-26185.zip