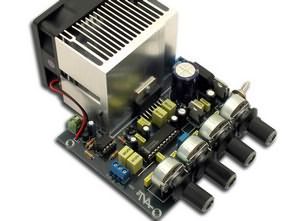 Tone controlled stereo amplifier circuit. You can use TDA7377 or TDA7374 amplifier IC. LM1035 or LM1036 IC can be used for tone and volume control. The cooling fan control made using TL081 op amp contributes to the circuit. Has adjustable voltage output with LM317 to power mp3 player or other audio sources..
The LM1035 (LM1036) is a DC controlled tone (bass, treble), volume and balance circuit for stereo applications in car radio, TV and other audio systems. An additional control input allows loudness compensation to be simply effected. Four control inputs provide control of the bass, treble, balance and volume functions through application of DC voltages from a remote control system or, alternatively, from four potentiometers which may be biased from a zener regulated supply provided on the circuit. Each tone response is defined by a single capacitor chosen to give the desired characteristic.
The TDA7377 (TDA7374) is a new technology class AB amplifier able to work either in DUAL BRIDGE or QUAD SINGLE ENDED configuration. The exclusive fully complementary structure of the output stage and the internally fixed gain guarantees the highest possible power performances with extremely reduced component count. The on-board clip detector simplifies gain compression operation. The fault diagnostics makes it possible to detect mistakes during car radio set assembly and wiring in the car.
Circuit Schematic Tone Controlled Stereo Amplifier
PCB, part list all files: 26898b.zip pass: 320volt.com
Published: 2023/03/19 Tags: audio amplifier circuits, ic amplifier