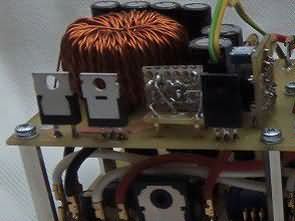 Switching Laboratory power supply 0-30V 5A TL494 Buck Converter
Adjustable Laboratory power supply adjustable Voltage 0-30v adjustable current 20Ma-5A TL494 DC-DC Buck Converter high efficiency.
A PWM generator is used to generate budiaceho signal for spínanú control. As a source of PWM the signal is used, the integrated circuit TL494 PWM signal for switching of the upper trigger is created using the outputs C2 and E2. The collector (C2) is connected to 5V power supply, which is in introduced to the emitter (E2). For the regulation of the striedy PWM chip TL494 is used to input the DTC (Death Time Control) which is with control voltage from 0 to 3.3 V, making it jump regulation from 3% to 100%. This is rebound, not striedy, which means that the maximum output alternates is 97% in zero voltage at the entrance of the LIBRARY.
0-30V 5A Laboratory power supply Circuit TL494 DC DC
This problem is resolved in formed rezistor R3, R5, R6 and IC1B. As a reference for reading is used a source of reference voltage linear regulation. The reference voltage is inverted by the operational amplifier IC1A. From this entry is input Control, which is connected directly from the input linear regulation, which from a regulatory voltage 0-30 In voltage of 3.3-0 V. Output frequency is given by the value of C1 and R7
Lab power supply circuit pcb schematic all files alternative links:
FILE DOWNLOAD LINK LIST (in TXT format): LINKS-25604.zip