Simple Line Follower Robot Circuit
microchip Picless line tracking robot is a simple design to create a basic line tracking robot with CNY70 sensor and a few additional components instead of making a pic or arduino line following robot.
In the diagram shown, you can see how the circuit works, when the led of the CNY70 sensor reflects a reflective surface, such as the white color of the surface on which the viewer will move, the 680-ohm resistor is fed from the R1 light, the phototransistor in the CNY70 sensor lowers the resistance between the collector and the emitter, this It also conducts the current that causes the polarized transistor Q1 to be grounded from 10KΩ resistor to R2.
Q2 is used to reverse the signal so that when the motor sees white it is disabled and works when the sensor detects black.
The line-following robot circuit works with 4 1.5v batteries connected in series. The total voltage in the serial connection of the batteries is 6v.
Line following robot circuit diagram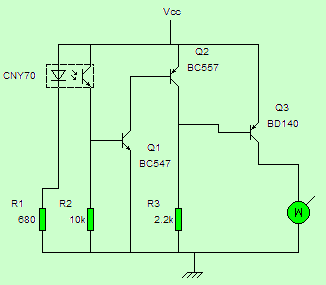 A list of materials;
2x CNY70 sensor
2x BC547 transistor
BC557 Transistor
2x BD140 transistor
2x 680 Ohm resistor
2x 10k resistor
2x 2k2 resistor
1x R6 battery slot
1x slide switch
The robot circuit pcb drawing, which follows a slightly more advanced line, is powered by a 9v battery made for the robot body.
source: tecnosalva.com/robot-seguidor-l%C3%ADneas
FILE DOWNLOAD LINK LIST (in TXT format): LINKS-26373a.zip