Panel Design Program Download
The program for panel design is free. It can be used for panel design of electronic device boxes, boards, industrial boxes. dfx can be imported and exported win 10, 7, 8 xp 32 and 64 bit versions are at a level that can do professional work. The program is in English, detailed usage information is available in the help menu.
Basic settings: Front panels with different basic shapes can be created in the front panel designer. Dimensions can be entered in height and partition units for 19 "or 19" systems. In addition to other functions, you can choose material, colors and edge processing.
Holes, pipes, threads: You can place holes and blind holes in the front panel. These can be provided according to standards or with freely configurable countersunk heads and threads.
Shapes: Panel design software offers rectangular, trapezoidal and triangular openings, as well as long holes, D holes, and slot circles. The edges of these elements can be machined with chamfers or radii.
Flat surfaces: Place circular or rectangular recesses in front of or behind your front panel. Flat surfaces with an elevated inner surface and edge treatment are possible.
DXF import: In the panel designer, it is possible to import the outer and inner contours of the front panel as a DXF file and thus design them completely freely. Inner contours can also be designed as flat surfaces.
Digital printing: Print files can be transferred directly to the front panel file. Possible file formats are: PDF, PNG, TIFF, JPG, BMP. Various printing options can be set in the program.
Text engraving and other engraving elements: Basic geometric shapes and various fonts are available. In addition to the RAL color range available, you can get the color you want. All engraving elements can be printed alternatively.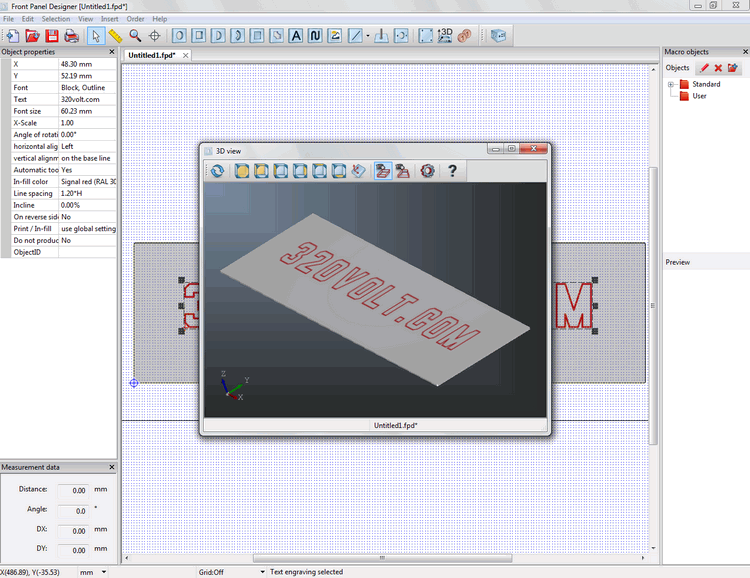 HPGL engraving: With the HPGL import function, even complex objects such as graphics, foreign fonts or your company logo can be engraved on your front panel.
Threaded bolts and sleeves: Threaded bolts and sleeves are available as fixing elements in the standard and load version in the front panel designer.
Macro elements: The panel design program includes an expandable library containing macro elements. Here you will find suitable mounting cutouts for many common connectors, fans, switches and other components.
System holes for standard 19 "front panels: Add suitable holes for 19″ bottom shelves with one click. System holes for (partial) front panels are available for the systems of Schroff and Fischer companies. The dimensions of the front panel can be automatically adapted to 19 "sub units when placing the holes.
Body: With the integrated body function, you can create all sides of a complete body in one step. You can design the pages according to your ideas. Necessary accessories can be added directly.
Source: schaeffer-ag.de/frontplatten-designer
FILE DOWNLOAD LINK LIST (in TXT format): LINKS-26382a.zip