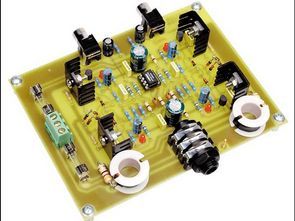 Hi Fi Stereo Headphone Amplifier Circuit
The Studio series is a premium stereo headphone amplifier with very low noise and distortion. Operating voltage installed on circuit OPA2134 opamp symmetrical + -15v dc
Headphone Amplifier Main Features
High performance – very low noise and distortion
Can be used with high and low impedance headphones
High output power (200mW; up to 8Ω and 32Ω)
Measured Performance values
Frequency response: from 10Hz to 20kHz
Nominal output power: 200mW 8Ω and 32Ω, 85mW 600Ω
Max. output power (current or voltage limited): 575mW 8Ω, 700mW 32Ω, 130mW 600Ω
Harmonic distortion: typically .0005% (600Ω load), 001% (32Ω load) and .005% (8Ω load)
Signal-to-noise ratio (A-weighted): -130dB (600Ω), -120dB (32Ω) and -111dB (8Ω) based on 100mW output power.
Channel interference: better than 20Hz-20kHz -68dB at 100mΩ output power
Input impedance: ~ 47kΩ || 47pf
Output impedance: ~ 5Ω
If you are going to use the headphone amplifier with an MP3 player, CD player, or a device with a preamphy, replace the 0-ohm (jumper) resistors connected to pins 2 and 6 of the OPA2134 IC with 2k.
Coils of L1-L2 will be wrapped with a wire of 0.6… 1mm thickness, approximately 21 tuft. PCB drawing of Stereo Headphone Amplifier has source file prepared with sprint layout program.
Hi Fi Headphone Amplifier Circuit Diagram
Source: forum.cxem.net
FILE DOWNLOAD LINK LIST (in TXT format): LINKS-26638a.zip