TDA7294 Stereo Amplifier Circuit Of Controlled Loudspeaker-Protected Tone
Hi guys, I used the new project again with proven performance, sound, price TDA7294 an amplifier IC. This project, in addition to double check before I share tons of "delayed and Led Excitation Speaker DC protection circuit TDA7294 Stereo" and "2X100" projects, we can say that a combination of amplifier circuit (when the minor detail differences.)
Diode bridge rectifier circuit is required for the feed, filter capacitors, the speaker protection circuit and volume, bass, treble tone control circuit when the psychic has additional settings for the card to connect the output of the power supply transformer circuit is designed as insurance, the filter Board.
High current lines (speaker outputs + v-v supply lines) should be covered with solder.
Use transformer; 4-ohm speakers to 8 ohm speaker 2X24V 2X18V for AC AC suggest, financial standpoint 250W at home enough.
Speaker protection circuit is working with additional resources without main power supply 12v traforu made by operating voltage regulated through but one storey with this floor AC connection cable to the PCB where the need is more clearly understood the connection diagram below. In fact, double layer PCB with printed circuit board can make smaller but a very amateur at his home circuit can be very troublesome.
In addition to the opamplı ton control module for retrieving disabled resistance and supply voltage zener regulated 2X18V AC transformer for 1 k 1W resistor and AC transformer 2X24V RES resistance de 150ohm 2W, 1 k 5 1W and 2W resistor can be used 300 ohm to the RES. The regulator has behind the RES resistance 7812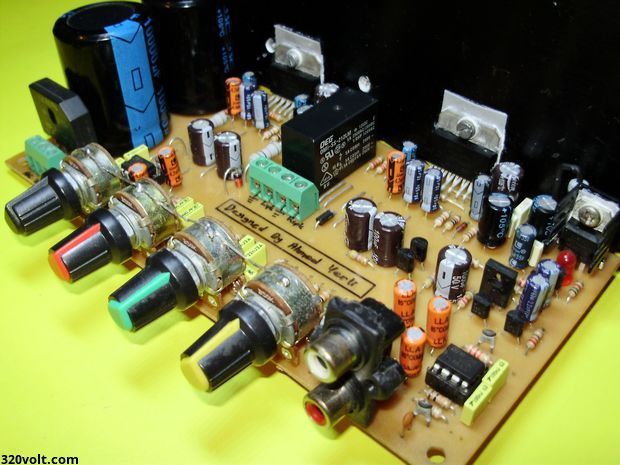 TDA7294 Stereo Amplifier circuit PCB drawings:
FILE DOWNLOAD LINK LIST (in TXT format): LINKS-22820.zip