High Power LED Drivers HV9910 MIC3201 Calculator
LED technology is progressing fast however a very controlled driver integrated modules and so on. was produced in the market HV9910 used to drive high power LEDs (high-efficiency PWM LED driver) and MIC3201 integrates computation programs prepared for this to be integrated with the design of the circuit pretty easy.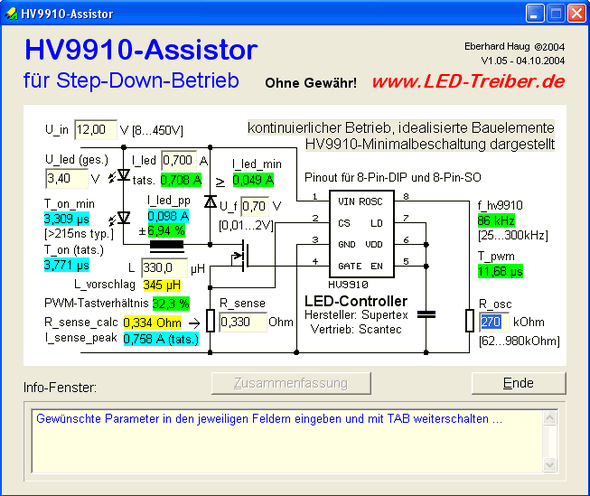 HV9910 Universal High Brightness LED Driver
HV9910 is a PWM high-efficiency LED driver control IC. It allows efficient operation of High Brightness (HB) LEDs from voltage sources ranging from 8VDC up to 450VDC. The HV9910 controls an external MOSFET at fixed switching frequency up to 300kHz. The frequency can be programmed using a single resistor. The LED string is driven at constant current rather than constant voltage, thus providing constant light output and enhanced reliability. The output current can be programmed between a few milliamps and up to more than 1.0Amp.
MIC3201 High Brightness LED Driver Current Sense
MIC3201 is a hysteretic step-down, constant-current, High-Brightness LED (HB LED) driver capable of driving up to four, 1A LEDs. It provides an ideal solution for interior/exterior lighting, architectural and ambient lighting, LED bulbs, and other general illumination applications. The MIC3201 operates with an input voltage range from 6V to 20V. The hysteretic control gives good supply rejection and fast response during load transients and PWM dimming. The high-side current sensing and on-chip current sense amplifier delivers LED current with ±5% accuracy. An external high-side current sense resistor is used to set the output current.
Source: http://led-treiber.de/html/leds_downloads.html alternative link:
FILE DOWNLOAD LINK LIST (in TXT format): LINKS-19169.zip