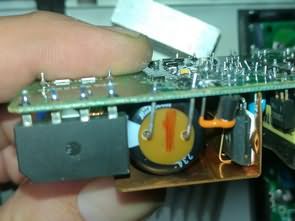 It is very practical to make circuits with a breadboard, especially in circuits with less material. Sometimes I build mixed circuits, but usually simple circuits. In the breadboard experiments, the power supply started to be a problem. It takes some time, especially when 2 or 3 different voltages are required, especially if symmetrical voltage is required, more time is wasted.
I thought I'd make a tidy system. There are Breadboards with dual power supply connections on the market, but their prices are high and the power supply is not included. I put old IBM laptop SMPS adapters in the faulty satellite set-top box. I built a multi-voltage output system with LM317 LM337 symmetrical power supply and 12V 7812, 5V 7805, 3.3V LD1117-3-3 regulator ICs on the perforated plate.
IBM SMPS adapters have 16V 2A power, I think, from 1996, but they are very high quality, even with their cables, there is no problem, even the mV level of output voltage in both adapters is the same.
SMPS control IC is manufactured by SANKEN, I don't remember the code, the capacitors are Rubycon brand so they are very good for this job.
I set up the standard circuits in the datasheet documents for the regulator ICs, in fact, I started because my PCB designs would be too small with SMD type components, but I have DIP sheath materials, and I was a little lazy 🙂
Breadboard Power Supply Circuit Diagram
Published: 2023/04/07 Tags: power electronic projects, power supply circuit