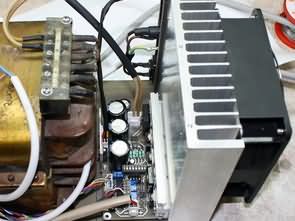 Voltage adjustment from 0.1V to 25V with "+" and "-" buttons; When the "+" and "-" buttons are held down, a slow change begins at 0.1V, after 2 seconds the change accelerates. Min. for 3A version of current limit. Min. for 150mA and 10A version. Setting it to 500mA; The current mode is selected by pressing and holding the "Current" button and the "+" and "-" buttons simultaneously.
Pressing once does not change the current, it just shows how much it is set to, pressing again starts the change. Apart from the power supply, different battery cells can be charged with current limitation
By pressing the "Lock" button, voltage stabilization is turned off and the current generator to the output is turned on. Settings are stored in the controller's EEPROM and restored when power is removed;
Adjustable Power Supply Circuit Diagram
Adjustable Power Supply Schematic Adjustment Of The Current Limit Voltage Adjustment
PIC16F88 microcontroller operations; Current and voltage measurement via 10bit ADC (directly dependent on Vref provided by TL431); output voltage is controlled by 8bit PWM (directly connected to +5V supply voltage) pushbutton inputs are software filtered for push-to-release crossover ripple Three outputs are reserved for controlling different types of indicators with serial charging.
The thermal resistor is placed next to the radiator to cool the stabilization transistors and sends a command to turn on the cooling. When using the MAX472 current sensor, three more 0.1R resistors must be added. The screen can be replaced with another screen after changing the software to install the LCD or LED.
Additional functions of the adjustable power supply: charging Pb batteries, measuring the capacity of NiMH battery cells and others;
Source: lz4gv.com/PowerSupply-CPU.html
Published: 2023/10/18 Tags: microchip projects, microcontroller projects, pic16f88 projects, power electronic projects, power supply circuit, power supply project