Electronic Door Chime Circuit Gong Sound with SAB0600
Electronics Projects, Electronic Door Chime Circuit Gong Sound with SAB0600 article "analog circuits projects* simple circuit projects* " tagged with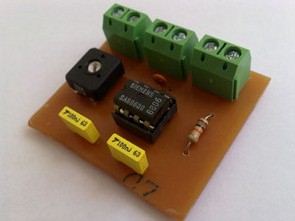 In this article SAB0600 of SIEMENS produces integrated circuits made ​​with electronic gong will tell. SAB0600 integrated 8-pin, 3 times a gong sound that is integrated.
Integrated circuits are created with few elements that connect the outside. 22K potentiometer to set the tone of the gong sounds. 8 ohm speakers for audio output of the circuit is used. Each press of the button triple gong will sound from the speaker.
Door Chime Circuit Test
SAB0600 Door Chime Circuit diagram
PCB Board Bottom, Top View
Door Chime Circuit diptrace schematic, pcb files: electronic-door-chime-circuit-gong-sound-with-sab0600.zip) RAR pass: www.yagizvural.com
Random electronic project: PT2260 PIR Detector Remote Control Project Alarm Circuit PIC16F628 suggest reading the article. microchip projects, microcontroller projects , pic16f628 projects provided information about the.